Galax High School Opens but Refuses to Integrate
8/27/1959
Galax city schools had long admitted hundreds of students from neighboring Grayson County, but when eight African-American students living in the county applied to attend Galax High School, the Galax city school board, in order to avoid integrating, ruled that their schools would no longer admit any students from Grayson County. This clip includes a white parent supporting the ouster of Grayson County students and a white student commenting on how far African-American students have to go to attend high school otherwise in Wytheville, 90 miles away.
Anchor script text: ((((START FILM)))) The first full day of school in Galax got underway today at the all-white high school and students showed only mild interest in the fact 8 negroes are seeking admittance.....((((SHOW FILM))))) Although this was the first day school none of the eight negroes trying to gain entrance to Galx high showed up. Two of the negroes are girls from Galax while the other six come from Grayson county. The six applications for transfer from the Grayson county negro students have been rejected by the State Pupil Placement board while the two Galax applications have not been acted upong at this time. Marvin Sutphin described the day as a normal one and expressed displeasure with the publicity being received by the school following the report that the 8 negroes were seeking admittance. A lack of a Negro high school in Grayson county forces Negro high school students to attend a high school in Wytheville. Town Manager W. G. Andrews says he doesn't consider an agreement between Galx and Grayson county binding so far as negroes attending the High school are concerned. (((((SOUND UP: S O F))))) Newsman Jim Walsh interviewed several of the students prior to class today. Some of the students said they didn't mind a few negroes attending the school; others were against such a move; while others expressed a dislike for the situation but expressed sympathy for the negro students who had to ride long distances to attend school. .. (((SOUND UP:SOF)))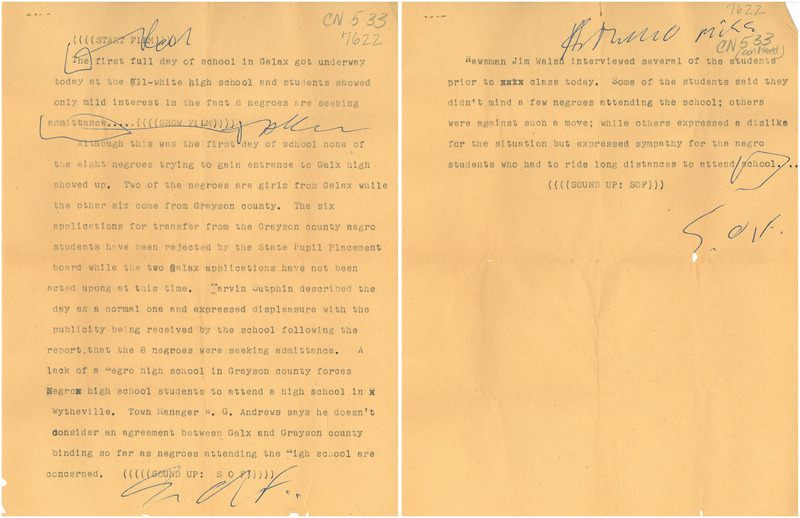 Galax Schools Forced to Integrate
9/14/1960
After protests and petitions, the Galax city school board relented and Grayson County students, including the eight African-American students, were allowed to attend Galax High School.
Anchor script text: (ROLL FILM) A crises of major proportion was settled quietly in a historic manner at Galax today. (TAKE FILM) Galax High School re-admitted 285 white pupils from the Old Towne Section of Greyson county after denying them entrance last Friday. That action resulted when Federal Judge John Paul ordered the City School Board to admit seven negroes from the Old Towne Section of the County along with the white students it educates under a contract with the County School Board. Paul stipulated if Galax High admitted whites from the Old Towne Section, they must admit negroes as well. The City School Board declined to admit any students. This raised a storm of protests from white parents in the area as well as negro. Yesterday, officials meeting with Judge Simon Sobeloff in Baltimore changed their minds and and doors were open to all this morning. Integration went off smoothly. There were some spectators but un-authorized persons, including newsmen, were barred from school property. Superintendent Marvin Sutphin released a statement that all was well in Galax High (LIVE ON)